I love this dish. My mom and dad would make this when we (brother and I) were growing up. I have never been a fan of ham but this is delish! I usually serve this with baked sweet potatoes/yams.

Ingredients:
Hamsteak of desired thickness. I usually get about 1/2" thickness.
Can of pineapple rings
Whole cloves
1 c. brown sugar
1 tbs mustard

*note* for easy clean up I always line my baking pans with Reynolds Wrap Easy Release Foil. I LOVE the stuff. Take and toss and minimize any if not all clean up!




Directions:
Preheat oven to 375*




Place ham in the pan and stick the cloves in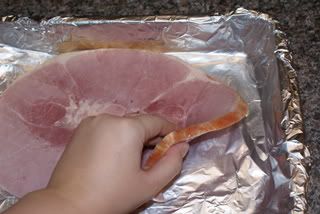 Lay the pineapples on top saving the juice!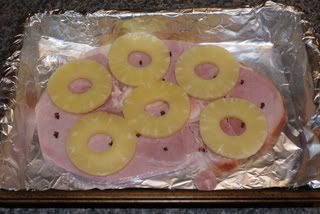 add juice to the brown sugar to make into a thick sauce




add the table spoon of mustard. I know you're thinking "mustard?? is she serious?" I am it adds a good tang that is very subtle.




pour sauce over pineapple and ham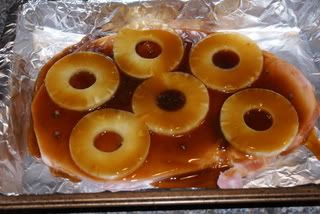 bake for 20-30 minutes or until your ham is 160*