I myself am not a huge fan of venison, however, my husband LOVES it and for his birthday I decided to make him a stew.

We used frozen stew meat and a slow cooker for this recipe.

Ingredients:
2 lbs venison stew meat or tenderloins cut into 1in. bites.
5-6 large carrots
2-3 cups chopped potatoes, about 1in size. Depending on your likeness for potatoes.
package beef stew flavor
package beef gravy flavor
water to cover
Directions:
First I put the frozen meat in the slow cooker. I off-set them so that it would be as even cooking as possible. Using thawed meat would be just fine. You might be able to adjust cooking time in that case to not over cook the meat.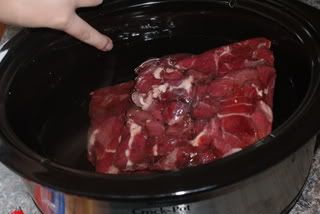 Add water to cover the meat and stir in the 2 flavoring packets.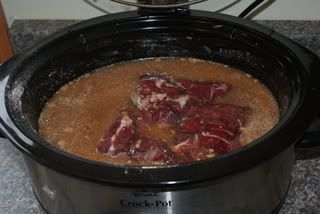 I then add the potatoes and carrots



I slow cooked on low for 8 hours.



Husband said it was great :)

I forgot to photo but at the very last half hour I add some frozen peas to the stew because he likes it. That is entirely optional!