So, Becky and I are avid "sweepers". For those who don't know what that is, we spend a lot of time entering giveaways hosted by different bloggers and websites. While doing one of these giveaways I discovered a recipe for Creamy Chicken Penne. Well I left it at home when going to get groceries and decided I'd try making some alfredo. Becky looked it up on her phone (savior :)) and we got the ingredients. I was very excited to try it!
The ingredients were:
5

tablespoons

sweet butter

2

garlic cloves, minced

2

cups

heavy cream

1/4

teaspoon

white pepper (doesn't matter if you use black)

1/2

cup

grated Parmesan cheese
I followed it exactly and to be honest it didn't make a lot. Probably sauce for 4. I like my pasta's saucy so I would probably double it if cooking for more people.
It was DELICIOUS!
First you melt the butter, and add in the garlic.
After that cooked a minute I added in the cream and parmesan cheese. Melt the cheese and simmer for 8-10 minutes until smooth and thick.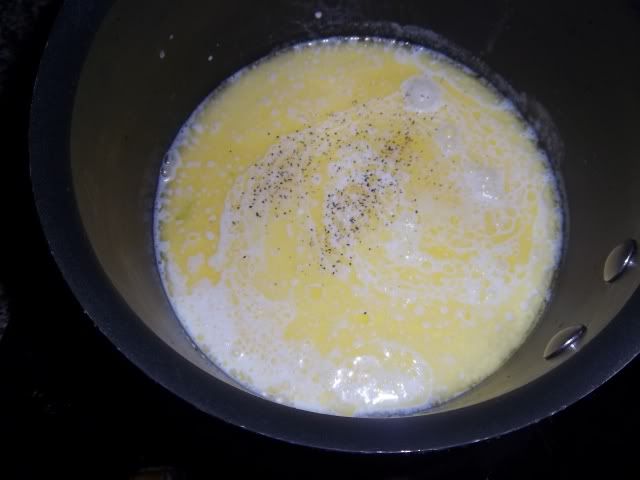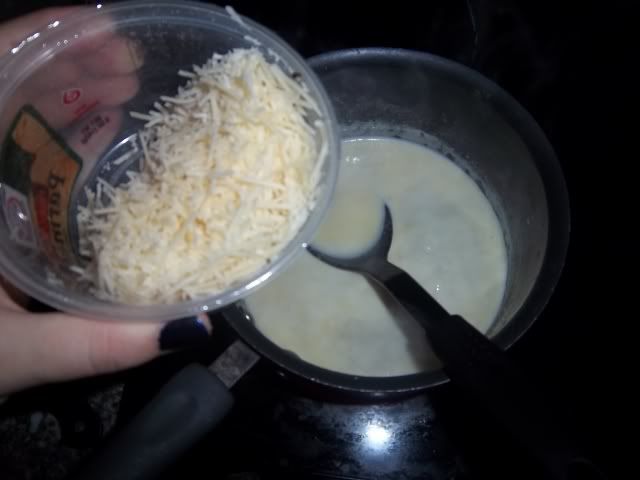 When its simmered the 8-10 minutes you can add in the motzerella cheese and melt that and simmer again a few extra minutes until smooth. I also let it set a moment to thicken a bit more.
I had boiled up some broccoli and sauteed some chicken in butter and minced garlic, until browned. I boiled fettuccine noodles and cut up the chicken and put it on my plate of noodles, put on some broccoli and poured on some sauce. It was seriously divine!