I made this cake for Miss Becca Ann's son's 3rd birthday. He LOVES Spiderman :) I haven't yet made my own cake from scratch, mostly because I end up doing the cake the night before the part so this was made with a box mix. I plan on doing a cake recipe next time I do a cake. I'm hoping a cake from scratch will be firmer than a box cake.
I also did not make this frosting, but I have recently made some and will post a recipe for that soon.
I first made a chocolate cake, 9x13 and eyeballed the shape to cut out his face. They do sell Wilton pans that are shaped as Spiderman but we wanted just his face. Next I began to frost.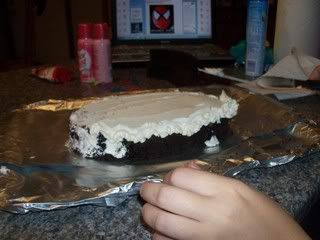 We wanted his eyes to be easily frosted white so we cut out a template in the shape of his eye to lay on the frosting before I started spraying it red. I love that Wilton makes a spray color for frosting. It makes life SO much easier!
Then I sprayed it red to get a great color rather than messing with mixing frosting color in. That can sometimes result in more of a pink color.
My next step was to use cookie frosting in white to brighten his eyes. I used the cookie frosting because its more stiff and easier to manipulate. I then started to outline them with cookie frosting as well.
I finished drawing his web face detail and this was the cake. Simple but he was very happy with it!